snapADDY VisitReport features at a glance
Are you looking for a solution to manage your leads at trade fairs or to digitally capture your field service reports and are you looking for something specific? Here you will find an overview of all snapADDY VisitReport features to compare and analyze according to your needs.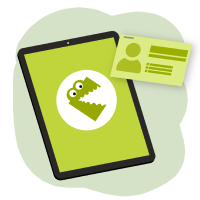 Contact capture
The integrated business card scanner recognizes contact and address formats from more than 50 countries and is available in five operating languages. Just photograph the business card with the app and the business card scanner with the world's best recognition quality does the rest for you – automatically and with the highest accuracy.
Besides business cards, it is also possible to scan tickets and ID cards or badges (depending on the supplier) for trade fairs. While the scanning process, the trade fair visitor information stored in the database is called up via the API and automatically transferred to the VisitReport App. Contact data from QR codes stored in the vCard form are also recognized easily.
Your contact doesn't have a business card or badge? In the snapADDY VisitReport app, you can easily transfer the contact data from LinkedIn. After completing the visit report, the captured contact data is exported in a structured way to your CRM or marketing automation system.
You already know your contact? You can select inventory data directly via our CRM integration. Supported CRM systems: SAP, Salesforce, Dynamics, HubSpot, SugarCRM, Pipedrive
Do you already know your contact person? Then you can select the existing data directly with the CRM connection. In addition, you can also import contact data quickly and easily – and even in offline mode!
When creating a visit report, you can also enter all important contact data manually. They will then be transferred to the CRM system.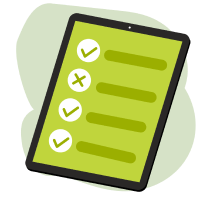 Questionnaires
You can create your customized questionnaires in the web configurator and modify them at any time, if necessary. The structuring in groups and questions offers more clarity.
Not all questions are relevant for every customer. Therefore, we recommend using dynamic elements that enable the course of the questionnaire to depend on the answers given by your interviewee. With VisitReport, you design your questionnaire in the template configurator based on the modular principle and can also choose from flexible question types such as multi-layered questions or nesting questions.
Do you already have a questionnaire? You can easily import it, so you don't have to create it again. We support the following fields, among others:
Text field

Text area

Date and time

Signature

Number
Questionnaires can be created in 21 different languages:
Afrikaans

Chinese (simplified)

Chinese (traditional)

Czech

Danish

Dutch

English

French

German

Hungarian

Italian

Japanese

Norwegian

Polish

Portuguese

Russian

Slovak

Spanish

Swedish

Turkish

Ukrainian
Create a set of questions and groups that you use frequently. You can use this set of questions to develop other questionnaires.
You can create a sub-question for each question. If they are used multiple times, you can create a set that can then be easily selected and applied when needed.
You can integrate a digital signature field in the questionnaire settings to confirm the use of the data for marketing or advertising purposes, e.g., for email marketing. This way, you comply with all the conditions required by Art. 13 of the GDPR in case of direct data capture.
If necessary, you can mark questions as required or important. This way, users know that the question must be answered or that it is important.
When a question is marked as an "important question", the user will be informed when leaving the visit report if it has not been answered. Unlike a required question, it will be possible to export to the CRM even if the question has not been completed.
Make your work easier and use the application's camera to take photos that you can optionally modify in the next step.
You have the option to complete the visit report or questionnaire with sketches or add drawings on a white background.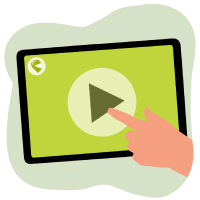 Media library
The media library is ideal for storing MP4 videos, images, and PDF documents that you can open and display directly in the app.
Using folders and image previews, you always have an overview of all existing files.
You can create folders and upload your files.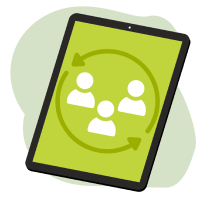 Team coordination
Particularly when there is a lot of staff at the booth and it is very crowded, you could quickly lose an overview of who is available at the moment. With the integrated "Team coordination" feature, all colleagues are networked and aware of which staff member is free and available at any given time.
In the app, you will find the complete list of your organization's booth staff. Here you can contact the booth staff by phone or SMS.
Who is an expert in a certain field? Who can support foreign visitors in a foreign language? In the VisitReport application, you can get answers to these and other questions immediately as you can store the skills and knowledge of your staff there.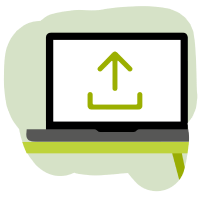 Export functions
In the snapADDY VisitReport dashboard, you can easily view and evaluate all recorded reports. Thanks to numerous filters, it is easy to search for the required data and information.
It is not only possible to view and evaluate the reports in the dashboard, but also to modify them if necessary.
snapADDY VisitReport has a direct connection to the most used CRM systems, e.g., Microsoft Dynamics, Salesforce, SAP Sales Cloud, among others. In case there are customized fields or settings, we help you easily and quickly to adjust them to your CRM system.
You can also export all data in Excel or PDF format and, for example, download attachments or business card images.
Before exporting to your CRM system, the system automatically checks if the same lead, contact, or account exists. Gaps in existing records are filled and no duplicates are created.
snapADDY VisitReport can not only be connected to CRM systems but also marketing automation tools. This ensures an efficient lead management process.
You can send additional data from snapADDY VisitReport to other systems via a webhook or a REST API.
In the VisitReport dashboard, you can find out in real-time whether you are reaching your target group at the trade fair. Several useful analyses are stored in diagram form, providing you with information on the reports recorded per user, day and time, or the origin of your visitors, among other things. This allows you to identify, for example, the good and bad days of the trade fair and adjust your resources if necessary. Using filters, you can customize the reporting view for each user.
Email notifications significantly improve the response time after a trade show. This allows you to immediately inform a colleague in the office to create a warm or hot lead, directly follow up on the trade show, and start planning the next steps. Alternatively, you can send the complete PDF report by email as a reminder.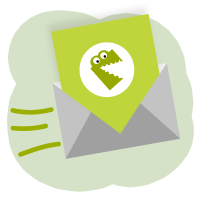 Follow-up emails
Impress your customers: While you are still saying goodbye to them at the booth, they already have a customized follow-up email in their inbox. This allows customers to remember the meeting positively and increases your chances of closing sales. You can send a follow-up email during the export or right from the dashboard.
You can create as many varieties in different languages as you want.
During the meeting, you can select brochures or documents of interest to the potential customer and send them to him/her later in the follow-up mail.
Based on your contacts' responses, attachments from the media library are automatically added to the follow-up email.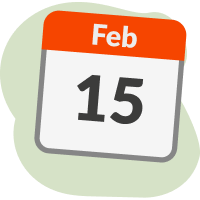 Meetings
The Meetings function lets you create and manage your meetings at trade shows and in the field. In the calendar view, you can consult your own meetings and those of your colleagues.
With just a few clicks, you can book necessary resources such as meeting rooms or equipment and add them to your meetings.
In order to check your upcoming appointments, you don't need to open your Outlook calendar anymore. In the app, you can see all scheduled meetings at a glance and start a visit report directly based on the participant information stored in the appointment.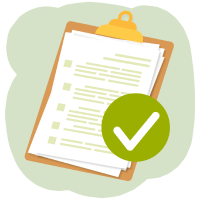 Organization & General Information
Whether at the trade fair or in the field services: In both cases, you often have to attend several appointments on the same day. To make sure you don't miss any appointments, you can keep track of your schedule in VisitReport's integrated calendar. An API ensures the automatic transfer of appointments from third-party systems such as Microsoft Bookings or Outlook.
With the "Meetings" feature, you can manage your meetings and resources at trade shows and in the field. With just a few clicks you can create meetings and book necessary resources like meeting rooms. In the calendar view, you can view your own meetings and those of your colleagues.
To make it easy for large companies to always work with the app, it is possible to limit user groups and template usage times.
The best-case scenario is that your corporate identity is reflected during your entire trade fair attendance. Therefore, it makes sense that the VisitReport application should also display your corporate design. Simply upload your logo or brand, select your company colors and font color of your choice.
Our application is available in:
English

French

German

Italian

Spanish
Your employees can authenticate themselves with snapADDY VisitReport using single sign-on. This allows your administrators to manage all access in one system and your employees to access all services with a single password. This not only saves time in administration, but also improves data security in the company.
The snapADDY VisitReport application can be fully used both online and offline.
You have several rights and roles to choose from, e.g., to be able to control the specifications of the executive committee and to enable the visualization of data.
The data storage and business logic of our IT solutions are performed at Amazon Web Services (AWS) in Frankfurt am Main (Germany). The processing of personal data takes place exclusively in the EU or Germany and such data does not cross the borders of the European Union at any time. We have signed all necessary contracts with AWS as a subcontractor to comply with the GDPR, and our hosting provider is ISO-certified. Learn more here.
You can roll out the VisitReport app through your mobile device management system. The app is available for common operating systems.
In snapADDY VisitReport, the structural requirements of large organizations can be easily established. It is easy to divide into different areas or organizations.
Downloads
To make the evaluation easier for you, we provide an Excel file for you to download. It includes all snapADDY VisitReport features with a short description. Feel free to expand the list as needed to compare it with your needs or with other providers.
Contact
Do you have any questions, or would you like to test snapADDY VisitReport? Do not hesitate to contact me, I will be happy to help you.
Jochen Seelig
j.seelig@snapaddy.com